Our Vision
To be the leader in supporting Opticians, Optometrists and Ophthalmologists so they can provide superior vision care and optical services in our local community as your local Eye Doctor of choice.
Our Mission
To provide superior health outcomes by facilitating long-term and an unrushed Doctor/Patient relationship with coordinated vision care and high-value optical services to our neighbors and friends in the communities we live in and serve.
Our Core Values
Compassionate, Comprehensive, and Coordinated vision care (the 3C's)
Servant mentality
Professional but Relaxed
Relationship-centric
Committed to Consistency
Connected to our Community
Your Eye Doctor of Choice
As Doctors focused on serving our community we feel shared values starts with sharing of values and taking the time needed to build an effective connection between the Doctors and Patients as individuals. Shared values are the foundation not only for a healthy community but also for a long-term Doctor/Patient relationship which best supports the coordination of care over time that leads to better healthcare outcomes.
Leadership
Our leadership team consists of Dr. Mari Ward and Mr. Michael Dee Hester as co-Presidents of ABC Optometric Inc. and our clinics – ABC Vision.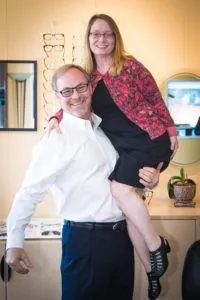 Dr. Ward serves as the Chief Optometric Officer for ABC Vision. Dr. Ward graduated from Pacific University College of Optometry in 1993 and completed her residency at the Veterans Administration Hospital in 1994. She has been in practice since 1994 and in 1997 became an adjunct clinical faculty member of Pacific University College of Optometry. Dr. Ward specializes in primary care and ocular disease and has a long history of pre and post laser vision and cataract surgery care. She is passionate about building long-term Doctor-Patient relationships and its benefit to better healthcare outcome.
Mr. Hester is a graduate of Fresno State University (BS) and is working on his MBA at University of Idaho. Mr. Hester oversees the day-to-day management of every ABC Vision office. Before partnering with Dr. Ward to start ABC Optometric, Michael spends 25 years in Technology between HP, Micro Focus, and Microsoft. He has experience in business development, engineering leadership, marketing and sales organization management including for healthcare clients such as California Medicaid, Virginia Medicaid, Caremark/RX and Blue Cross Blue Shield. He is dedicated to lean and agile business processes and creating repeatable business models that put customer satisfaction at the center.
Dr. Ward and Mr. Hester are committed to the principles of servant leadership. They feel this leadership philosophy along with putting customer satisfaction at the center of the business then surrounding this with solid business management processes provides the foundation for what they call the ABC Way or the ABC Difference which leads to simply better Vision Care.
Better Vision from the start
In 2000 after Mr. Hester received once again another rushed exam with an incorrect vision RX from a multinational chain. He felt an opportunity existed for a better eye health experience that provided better results. One that didn't rush the examination and put a value on the Doctor-Patient relationship first and foremost. In 2003 he met Dr. Ward and they shared a common vision. Together Dr. Ward and Mr. Hester started ABC Optometric, seeing that an opportunity for a better local eye health solution existed. To help accomplish this they needed to put the Doctor back in the neighbors near their patients but supported by centralized services that freed the Doctors so they have the time to be solely dedicated to patient care as well as the growing need for optical medical services.
Strategic Partners
Essilor: Founded in 1849 in France, Essilor produces ophthalmic lenses along with ophthalmic optical equipment. Essilor is responsible for creating Varilux, the world's first progressive lens which corrects presbyopia and allows clear vision in the wearer's near, intermediate and far vision.
VSP Global: VSP Global is a group of progressive businesses including Vision Service Plan the nation's largest vision insurance plan, Marchon Eyewear, Inc. a manufacturer and distributor of fashion eyewear, VSPOne Laboratories and UNITY which produces ophthalmic lenses and Eyefinity®/OfficeMate® which provides Optometric Practice Software.
Medical Co-Management
Oregon Health Science University
Pacific Cataract and Laser Institute
Teplick Custom Vision
TLC Vision
Legacy Health Systems
Pacific University College of Optometry
Join the team
If you are a Northwest Eye Doctor tired of working for a national chain let ABC Vision build you, your own practice in your local community and become one of the owners of ABC Vision. The ABC Way is to serve you better so you can serve your patients best. Please contact us at [email protected] or [email protected] to learn more. Thank you.
Best Regards, Dr. Mari Ward Hester and Michael Dee Hester