Vision and Eye Exams
Taking care of your eyes means you should schedule regular exams with an eye doctor. Even if you can see well, regular exams can look for potential problems with your eye health. At ABC Vision in Sherwood, Hillsboro, and Portland, we can help you with professional exams to monitor changes in your vision or in your eye health.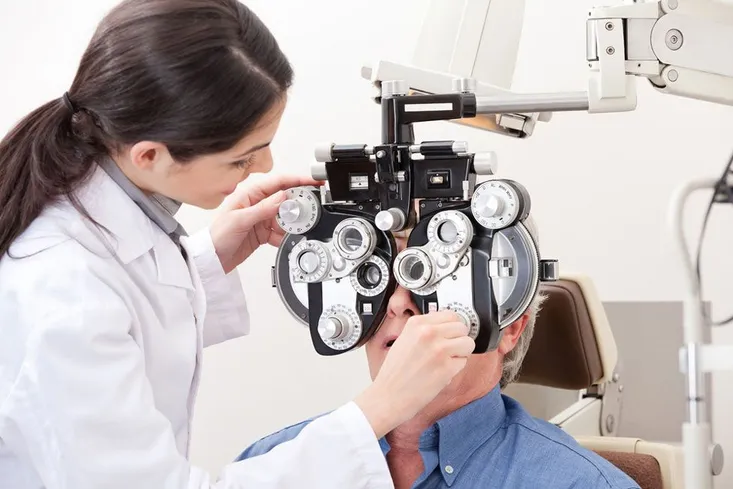 What Happens During a Vision Exam?
A vision exam looks at the ability of your eyes to see clearly. This portion of a comprehensive eye exam usually involves the optometrist asking you to read letters off a chart. Depending on how well you see the letters on the chart corresponds to your vision. For instance, if you can see the letters clearly, you have normal vision. However, if you have 20/40 vision, you need to be half the distance from the chart as someone with normal vision to see the letters.
You may also have to look through a refractor to help the optometrist determine if you need corrective lenses and what power is needed. This part of the test involves the optometrist switching between lenses and asking you which helps you to see more clearly.
If you need contact lenses, the optometrist may use keratometry to determine the shape of your cornea. This is a critical step for selecting the right type of contact lenses.
What Are Eye Exams?
An eye exam is when your optometrist looks at your eyes' health. This portion is part of a comprehensive eye and vision exam because changes in vision could indicate alterations in your eye health. Eye exams may require you to have drops that dilute your pupils so the optometrist can see clearly to the back of your eye. Other tests may have you look directly at a screen or the doctor to determine your peripheral vision.
The tests conducted during this part of the comprehensive exam can identify the presence of conditions such as glaucoma, cataracts, stroke, diabetes, and high blood pressure. Some people don't recognize that they have chronic conditions until after an eye appointment which is another reason to continue regular visits to your eye doctor.
Connect With ABC Vision
Whether you live in Hillsboro, Portland, Sherwood or the surrounding areas, you have an ABC Vision location near you. If you would like to make an appointment with us for a vision exam, call one of our locations.
Let us help take care of your eyes with our friendly staff, expert optometrists, and convenient locations.